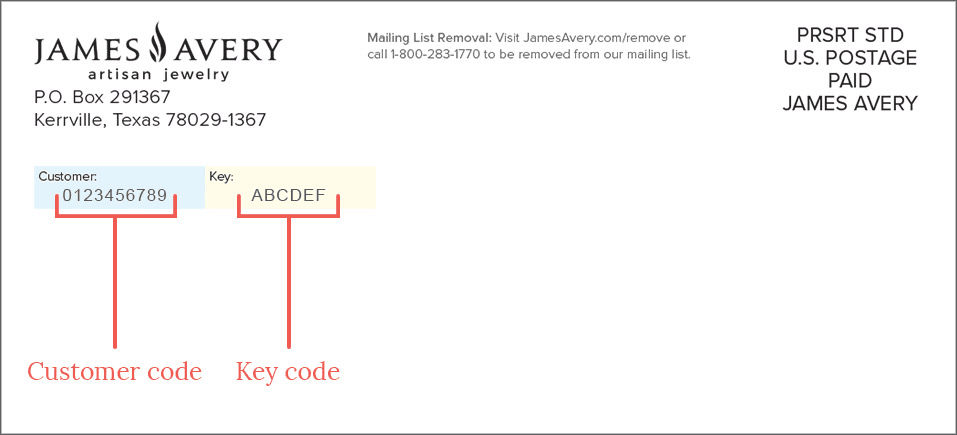 Recently we have been getting inquiries about what the address label codes and colored boxes mean on postal junk mail.
In short, these address label codes exist so catalog companies can implement internal tracking of data such as where they got your information or which catalog you are ordering from.
Codes frequently used on junk mail address labels include: customer numbers, catalog numbers, reference numbers, source codes, and more.
Sometimes catalogs will send a one-off mailing and there will only be one code on the catalog. Other catalogs will have all sorts of numbers to track your (purchase) behavior as a current customer.
These codes tend to tell direct mailers two things:
where they got your name from and
which catalog and/or marketing channel they should attribute your purchase to.
Here are some of the address label codes from catalogs, demystified:
USPS bulk mailing codes which are not relevant
1. In General the first line of the Address label looks like:
*******************ECRLOT 0123D**C-018
This address label code is not relevant.
2. Numbers to the left or right of your name that look like:
003
P290
92675
These address label codes are also not relevant, as they are USPS Postal mailing codes and permit numbers that the Post Office uses on bulk mailings.
Direct Mail Codes which ARE relevant
1. Colored boxes
These are generally marked clearly as customer Number and catalog/source/keycode. When using PaperKarma to remove your name from mailing lists, use these numbers in the corresponding entry areas provided.
PaperKarma will only request these codes from you if they are required by the mailer for processing an opt-out request or if they generally speed up the opt-out process by helping the mailer identify you.
2. Non Labeled Codes and Numbers
Sometimes you will also find a number in the first line above your name, this is generally the Customer Number. They may even appear with a C as the first letter.
How do you confirm that you have the right address label codes?
Most catalogs have an order form inside the cover or a lift out flyer in the middle of the catalog. In here your name and address will be printed and above it there will be the same numbers as there are on the address label. This will confirm which numbers are relevant.
Summary
All of these numbers are meaningful to the direct mail company and will help them determine where your name came from, if it was rented, bought, shared or on their own mailing list.
Supplying this information when you are removing your name from mailing lists will make sure you are removed quickly and efficiently.