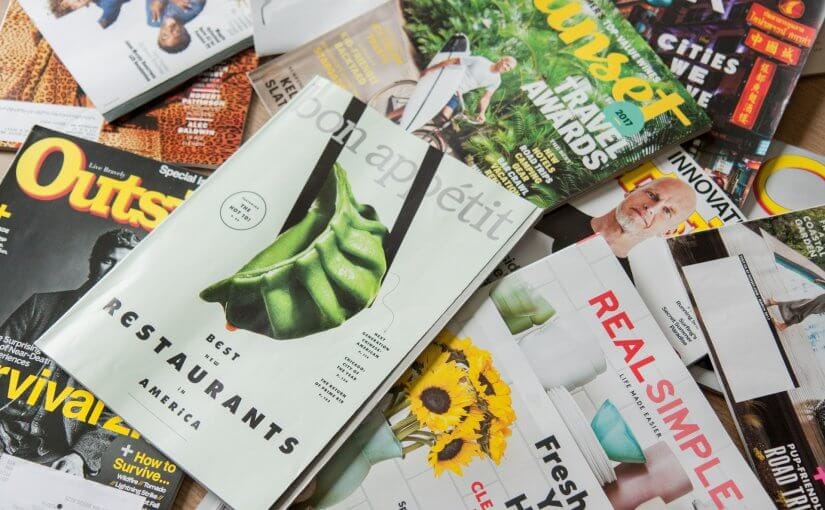 How to stop junk mail in 3 easy steps
Stop Prescreened Credit & Insurance Offers with OptOutPrescreen (1 min)
Stop Larger Direct Mailers & Catalogs with DMAchoice (1 min)
Use PaperKarma and CatalogChoice to Stop All Other Direct & Local Mailers (3 mins per week)
How is paper junk mail still even a thing?
Whoa. Stop the record player.
It's 2023 here. And unfortunately, we had to update this guide because junk mail actually increased year on year.
If you're getting too many catalogs, magazines and charity offers …  you're not alone.
This is why we put together this ultimate guide to help you understand where junk mail comes from and what can be done about it.
If you don't have time to get into the weeds, here are the 3 easy steps you should take to reduce your junk mail problem by 90% or more (also summarized at the top).
Made it this far? Great! Read on to get the facts and details behind all of the above steps.
The facts are staggering.
Seven days a week and without fail, the USPS continues to deliver literal tons of unsolicited junk mail across the US.
According to its own 2022 annual report and website, the USPS hauled 67+ billion pieces of junk mail (ahem, "standard presorted" or marketing mail, if you speak mailroom) across 1.2 billion miles.
Consider the energy and resources required to accomplish this … just so you can throw it out.
But what about those superior 5% response rates that direct marketing gurus laud over digital conversions? Direct mail marketing is still super useful and helpful, right?
Maybe. But this still means that 95% of direct mail misses its mark – and is duly tossed out. At a tremendous expense to all of us.
Here's a nifty infographic we put together a couple years ago to help visualize the colossal waste caused by junk mail.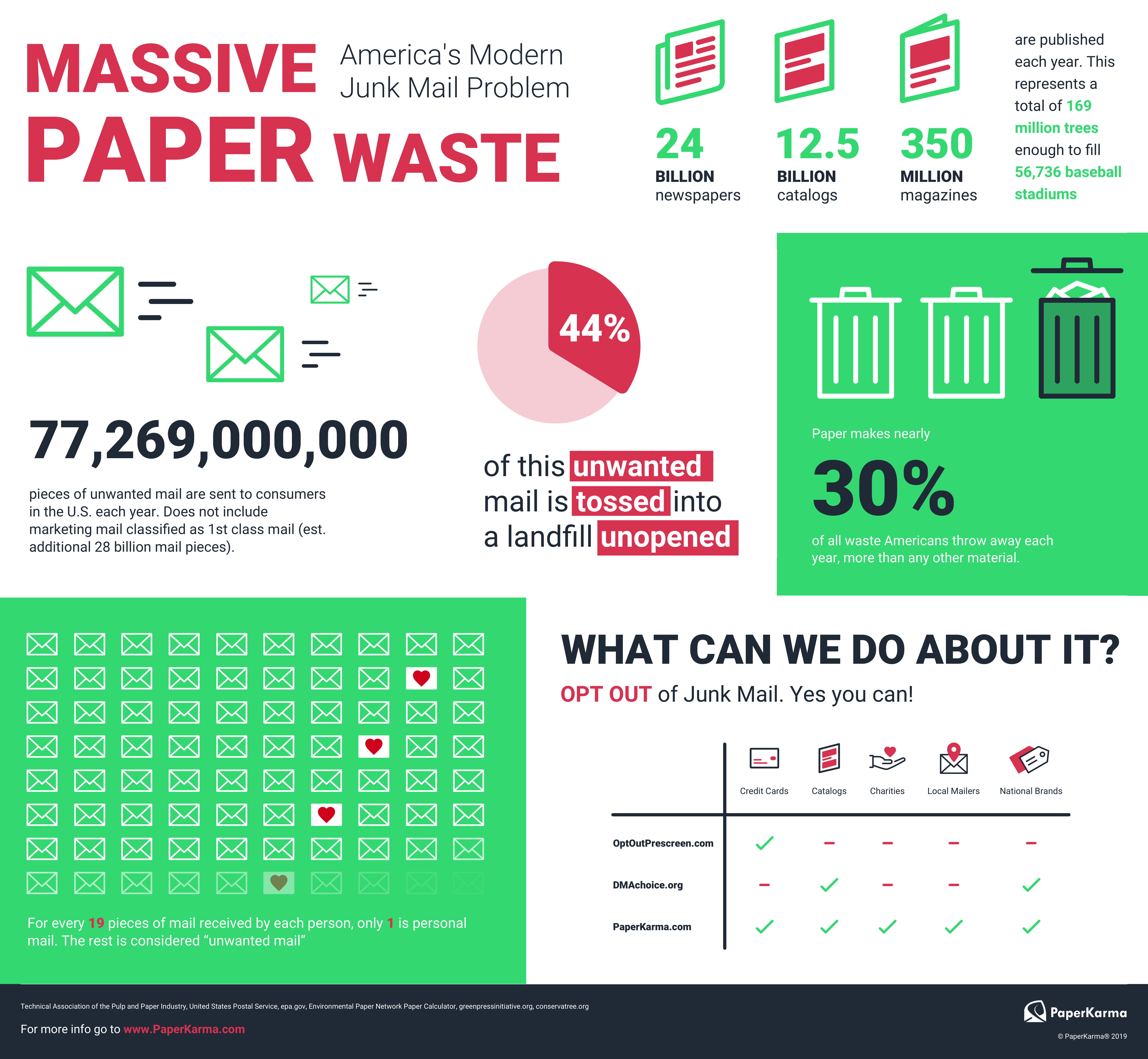 The sheer scale of waste from junk mail – and the lack of public discussion about it – is quite unbelievable.
Especially given the American public's growing resentment toward both environmentally inefficient products and large-scale privacy invasions from advertisers.
Yet as inundated as we are by "advanced tracking", second-screen and omni-channel digital campaigns, traditional direct mail campaigns continued to attract more advertising dollars in the last year.
So how to stop junk mail from cluttering our mailboxes, home offices and kitchen counters?
Read on to learn more about each of these steps and to get direct links and additional tips.
Step 1 – Stop Prescreened Credit & Insurance Offers with OptOutPrescreen
First, give credit where credit's due … in this case Uncle Sam and the Fair Credit Reporting Act (FCRA).
Meh. Kind of.
On the one hand, the FCRA legislation gives the big four credit reporting agencies – Equifax, Experian, Innovis and TransUnion – the right to share your credit history with businesses offering financial products.
On the other hand, the Fair Credit Reporting Act gives you the right to opt out of these preapproved credit card offers and insurance offers, also known as "firm offers" of credit.
Translation: the same act that enables the ungodly deluge of credit offers actually gives you a say in whether you can get spammed.
So chalk this up as a win for the little guy?
Given it's the only real legislation that gives you control over (some) junk mail, we'll take it.
Exercise your right to opt out of firm offers of credit and insurance at OptOutPrescreen.com.
Opt-out requests will remain in force for a period of 5 years. A permanent opt-out option is also available, but it requires extra hoops to jump through (see below).
Tip #1 – Don't waste time calling or mailing forms (if possible)
The online opt out is the easiest, fastest method of opting out.
Simply enter the name and address you wish to opt out. Note you are NOT required to provide your Social Security Number or Date of Birth – these are optional fields.
Tip #2 – Online doesn't work for everyone
If you are not comfortable submitting your information online (or if you CAN NOT submit online – the website is known to haphazardly brick submissions originating from certain states), you can call to opt-out.
To reach OptOutPrescreen by phone, call 1-888-567-8688 (that's 888-5OPT-OUT).
Tip #3 – Permanent opt out requires snail mail
Opting out permanently requires FIRST submitting your request online or by phone, and subsequently printing, completing and mailing an additional confirmation form(s).
This seems like a lot of extra work if you have multiple family members you wish to opt out. If you're anything like us, simply firing up the printer and installing the invetible driver updates you missed can take an hour of troubleshooting.
Remember you can simply resubmit the online form again, if needed, anytime.
STEP 1 DIRECTIONS: How to Opt-Out of Credit Card Offers
Go to OPTOUTPRESCREEN
Cost: Free
How long does it take to opt out?: 1 minute (for online option)
When will you see the junk mail stop? After approximately 2-3 months.
Step 2 – Stop Larger Direct Mailers & Catalogs with DMAchoice
Not to get all philosophical, but here's a question:
Are billion-dollar industries – absent regulation – capable of self-regulating and safeguarding consumers?
Whether you're an optimist or a pessimist here, it's important you know the same associations of corporate advertisers that lobby for the $44.2 billion direct mail industry are its de facto policemen as well.
These associations include:
The Data & Marketing Association (DMA), originally founded in 1917 as the Direct Mail Association (celebrating 100+ years of junk mail!), and
The slightly older Association of National Advertisers (ANA), founded in 1910.
In mid-2018, these two organizations merged into the "greater" ANA, which now requires each of its members to uphold an ethical code of marketing conduct.
The Association's corporate and non-profit members, comprised of many large mailers and catalog publishers, are required to honor all direct marketing opt-out requests submitted to the ANA's mail preference service, still under the name DMAchoice.org.
What is DMAchoice?
DMAchoice is primarily a mail preference service for postal marketing mail (junk mail), but also offers registration for ANA's:
Now, if you've already navigated to DMAchoice.org, you are probably wondering whether it's a legitimate, operational service. After all, its website design hasn't been significantly updated since 2008.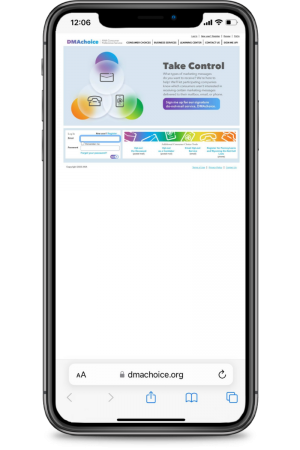 [Built for … Palm Pilot?]
Contrast this with the ANA's shiny new website used to showcase bleeding-edge design prowess and thought leadership to its Madison Avenue cohort.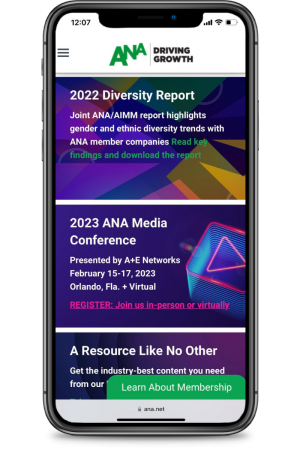 [Source: ANA.net]
Given the lack of investment in keeping up with the times, it's a fair question to ask whether DMAchoice is just an afterthought, or simply a token service intended to keep up the appearance of propriety.
Nevertheless, the site IS operational.
Here's how DMAchoice works:
When you register with DMAchoice, your postal mail preferences are provided to all ANA members that market to consumers. They, in turn, are required to run their lists of prospective customers every month against DMAchoice and to remove registered individuals from prospective mailing campaigns.
Tip #4 – DMAchoice works on some, but not all mailers
DMAchoice only opts you out from companies and organizations that are ANA members. The DMAchoice website claims to represent 3,600 organizations.
However, the current master ANA membership list is available here. We counted 1,108 members as of the writing of this Stop Junk Mail: Ultimate Guide.
Tip #5 – DMAchoice opt outs are valid for 10 years
Registering with DMAchoice ensures your name and address remain on their suppression list for 10 years. You can choose whether to opt out from individual companies' mail lists or blanket opt-out of three categories of mail:
Catalogs
Magazine Offers
Other Mail Offers (this includes donation requests, bank offers, retail promotions and more)
DMAchoice additionally claims "Credit Offers" as an opt-out category. Note that in practice this is a simple redirect to OptOutPrescreen (from Step 1 above), which offers its own website and free service.
DMAchoice is actually not affiliated with OptOutPrescreen in any way.
Tip #6 – Set your expectations and move on to Step 3
Having processed over 10 million opt-out requests for junk mail since 2011, PaperKarma has some unique insights into the usefulness of DMAchoice in getting rid of junk mail.
In a recent analysis we determined that just around 10.5% of all requests submitted were to (current) members of the ANA.
This, of course, is indicative of the fact that there are tens of thousands of other businesses in the USA that market via postal direct mail and do NOT adhere to ANA/DMA policies.
The ANA discusses the effectiveness of DMAchoice itself, here:
"WILL REGISTRATION WITH DMAchoice END ALL ADVERTISING MAIL?

No. Registrants will continue to receive mail from organizations with which they do business and from organizations that do not use DMAchoice to clean their mailing lists. In addition, registrants may continue to receive mail from local businesses, professional and alumni associations, and political candidates and office holders.

Mail of a business-to-business nature received at your business address will also not be affected by registration with MPS [Mail Preference Service]. Business names and addresses are not placed on the file, and companies that send mail of a business-to-business nature do not use the DMAchoice file.

In any of the above instances, write directly to the organization to request removal from that organization's mailing list."
So, set your expectations accordingly.
Regardless, there are some quite large mailers that belong to the ANA /DMA, and opting out takes less than a minute!
STEP 2 DIRECTIONS: How to Opt Out from some Larger Brands
Go to DMAchoice
Cost: One-time verification fee of $4.00 (online only)
How long does it take to opt out? 1 minute (for online option)
When will you see the junk mail stop? After approximately 3-4 months.
Step 3 – Use PaperKarma and CatalogChoice to Stop Catalogs and Junk Mail from Charities & Local Mailers
Here's where most guides and articles on how to stop junk mail get it wrong.
They throw up their hands in exasperation and claim that there is no solution for all other mailers not handled by OptOutPrescreen or DMAchoice.
You are either out of luck or need to resort to intensive manual efforts for thousands of charities, non-profits and local businesses.
We beg to differ.
First, what NOT to do: 'Return to Sender'
No dice. This common advice won't really resolve your junk mail issue.
Remember those 67+ billion pieces of junk mail delivered annually by the USPS, which we discussed above?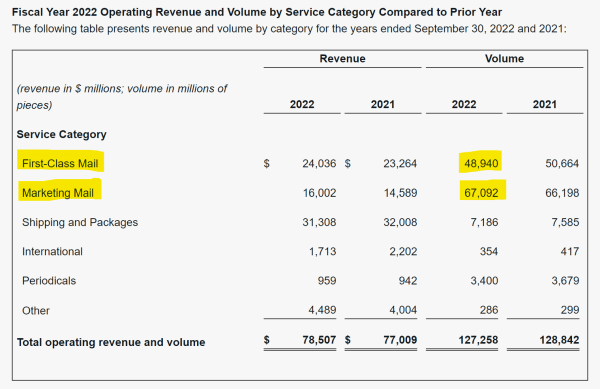 [Image Source: USPS]
As mentioned before, the USPS refers to this type of junk mail as "Standard" mail (or "marketing mail" in its annual report).
It is sent out at a discounted postage rate that DOES NOT ALLOW for it to be returned to sender, unlike First-Class Mail. It's simply disposed of at the post office – how, we dare not ask.
[Image Source: GIPHY]
Don't take it from us, take it from a Career Letter Carrier:
Read Michael Cueva's answer on Quora
Now, you CAN return a postage paid "First-Class Mail" piece to sender.
Recall the 2022 statistics from the USPS – first-class mail accounts for some 49 billion mail pieces mostly comprised of bills, account statements and notifications, letters, postcards and some direct marketing mail.
Any mail that comes bundled with a prepaid postage envelope for your response, is sent First-Class, or which has the additional monikers mentioned by our friend from the post office above can be sent back for free.
That's part of what the premium postage the sender spent on pays for.
Go ahead. But you will see these pieces do not make up the bulk of your junk mail problem.
What NOT to do (99% of the time): "Contact the mailer directly and ask to be removed from their list"
Except for in a very limited number of cases (more on this below) this is not your best approach.
We guarantee you will tear your hair out from the frustration and tedium of:
Going online and researching how to opt out from every. single. organization sending you physical junk mail.
Writing an email or worse … calling and waiting on hold for every. single. organization sending you postal junk mail.
You simply don't have time for that.
There are better ways to get rid of junk mail!
We promised you three (3) easy steps to help you get rid of junk mail – in UNDER 5 Minutes – and we aim to deliver.
There are two alternative solutions to stop junk mail, both offered by organizations which have already done the research and established relationships with the direct mailers so you don't have to.
These organizations will help you opt out from the mailing lists of individual companies in mere seconds.
One solution to clean up your remaining junk mailer problem is called CatalogChoice.
What is CatalogChoice?
CatalogChoice offers a database of some 10,000 mailers you can choose to opt out from. As its name suggests, these are predominantly catalog mailers.
The service is free to use and is available on desktop and mobile web. It is particularly good at reducing the amount of catalogs you receive.
How do you use CatalogChoice?
Once you create an account, you search for catalogs in the CatalogChoice database. If the mailer exists in the database, you then type in the name and address you wish for the catalog mailer to stop sending to.
Who runs CatalogChoice?
CatalogChoice is operated by a 501(c)(3) non-profit called The Story of Stuff Project, which developed a wonderful movie drawing attention to the needless "stuff" cluttering our lives and the environmental damage it breeds.
This is a great non-profit that relies on donations to fund several initiatives:
the Story of Stuff program
campaigns against single-use plastic water bottles
CatalogChoice mail preference service
You can make a tax-deductible donation to the Story Of Stuff Project / CatalogChoice, here.
(PaperKarma is not affiliated with CatalogChoice. We do appreciate their work, though ?.)
STEP 3 DIRECTIONS (1/2): How to Stop Catalogs
Go to Catalog Choice
Cost: Free (or $10+ suggested donation)
How long does it take to opt out? 3-5 minutes every few weeks (at least once per season, to get rid of seasonal mailers).
When will you see the junk mail stop? Approximately 2-3 months after submitting a request.
The second, alternative solution to CatalogChoice is PaperKarma (full disclosure, you are on our website ?).
What is PaperKarma?
PaperKarma is a mobile app that stops junk mail.
What does PaperKarma do?
PaperKarma stops junk mail. The snail mail kind. Aka physical, paper, postal junk mail.
Anything else?
Nope. There is no other focus. Stopping junk mail is our jam.
How does PaperKarma work?
Snap a picture of the junk mailer's logo
Enter the name and address you wish to opt out.
That's it. It's that easy. PaperKarma does the work to unsubscribe you from mail lists.
How is PaperKarma different from CatalogChoice?
In a nutshell:
PaperKarma has 100,000+ mailers in its database, compared to CatalogChoice's 10,000 mailers.
With 10x the mailers, PaperKarma is the largest, most comprehensive Do Not Mail registry service in the US.The PaperKarma database includes tens of thousands of charities, non-profits and local businesses.
It also works on most catalogs covered by CatalogChoice and larger national brands covered by DMAchoice.
Moreover, since 2011 PaperKarma has worked with credit issuers, banks and insurers to develop protocols to opt consumers out from financial mailers as well.
This means PaperKarma is a one-stop shop to get rid of almost ALL junk mail. We track our success rate at 90%+ of all requests received.
Additionally:
PaperKarma is a technology company, not a non-profit.
We do charge a small fee for access to the service, in lieu of soliciting donations. This is also how you know we don't need to sell your data in order to keep operating.
We use our proceeds to fund continual improvements to our service and our suite of mobile apps.
PaperKarma crowdsources the mailers it adds to its database in real time.
We add ~100 new mailers per day, or ~3,000 per month, all suggested by our users.
PaperKarma is a mobile app that stops junk mail, not a desktop application.
On-the-go, no desktop needed, no searching for mailers in a database. Simply snap a photo and let PaperKarma do the heavy lifting to stop your junk mail.
Tip #7 – PaperKarma stops junk mail for previous residents and owners
PaperKarma allows you to add Unlimited name /address combinations.
This means you can opt out your entire household or communal living situation with one account.
It also means you can cancel junk mail and catalogs on behalf of another person – e.g. previous owners, renters and tenants, deceased relatives or your elderly parents when you visit them (in accordance with our ToS).
Tip #8 – PaperKarma offers a Free Trial AND a Money-Back Guarantee
PaperKarma allows you to test-run the app by allowing for 4 free "unsubscribe requests" before requiring you to subscribe to its service.
Not only does it offer a free trial, but it also offers a money back guarantee if you are not completely satisfied.
Tip #9 – Be patient. It takes some time.
Note that the service does not work overnight. It takes some time for junk mail to stop once a request is submitted – whether you call up a mailer yourself or automate it via PaperKarma.
This is because mailers pre-print several waves of a campaign in bulk and can't simply pull your envelope out of the palette. Any single request can take up to 12 weeks to see the mail completely stop.
STEP 3 DIRECTIONS (2/2): How to Stop Junk Mail
Go to PaperKarma (web) / (app download)
Cost: Free trial, then $3.99/mo – cancel anytime
How long does it take to opt out? 1 minute every few weeks (at least once per season, to get rid of seasonal mailers).
When will you see the junk mail stop? Approximately 2-3 months after submitting a request.
So if junk mail CAN be stopped, what's the bad news?
We shared with you 3 easy steps to take to stop junk mail.
Following these steps, you can easily cut down your junk mail by over 90% in less than 5 minutes (and see the results after a few months).
The bad news? You can't stop ALL junk mail. There are several types of junk mail that not even PaperKarma can stop.
What junk mail can't be stopped?
Similarly, bulk mail that is addressed ONLY to "Current Resident" or "To our Neighbors At" is difficult to stop.
Free Standing Inserts (FSIs), such as most grocery leaflets, are also delivered directly to every door.
In these cases, there is no mailing list to unsubscribe you from.
With a few notable exceptions:
Fill out this quick online form to stop junk mail from Save.com & RetailMeNot Everyday, formerly known as RedPlum.
Here's how to opt out from Valpak, a national coupon mailer.
Here's he opt-out email address for Money Mailer, a large national & local coupon offer mailer.
When writing an email to Money Mailer (or any mailer for that matter), use the following text:
"Please add me to your DO NOT MAIL list for postal mail.
Also please do not rent, sell, or trade my name or address." 
Scam mail – anyone trying to scam you or your aging loved ones is by definition not honorable. It's unlikely they will ever honor your requests to stop.
Political ballot mail – see scam mail above. JUST JOKING!
But seriously, this mail goes to the heart of the 1st Amendment. The good news is these mails cluster in short cycles and automatically die down after an election.
Sticklers – Finally, there are always a few sticklers that think making you jump through hoops to get off their mailing list is good business practice.
These companies tend to require a mandatory phone call and a confirmation of sensitive personal information they may have on file (e.g. last 4 of your SSN or a credit card they may have had on file).
AT&T | UVERSE | DIRECTV – Call +1-800-288-2020
Xfinity Comcast – Call +1-800-934-6489
Some smaller regional cable broadband providers
Phone in only as a last resort
We do suggest phoning in your opt-out request as a last resort. If you use all 3 of the above tactics first, you should only have to do this for a handful of mailers.
If you're not sure what a telephone opt-out entails, here's a great example from #zerowaste blogger Shelbizlee:
As you can see, opting out this way does take time.
Most junk mail CAN be stopped.
Are you worried by the several categories of junk mail that CAN'T be stopped?
Don't worry. They are a small portion of junkmail overall.
EDDM may be particularly annoying, but at an average of 2.6 billion pieces over the past 10 years (compared to the 67+ billion pieces of all junk mail sent in 2023), it's still a small 3.8% of total volume.
Think of the remaining categories (scams, ballot mail, etc.) similarly.
All in all, following our 3 Steps to Stop Junk Mail can take less than 5 minutes and can drastically reduce your junk mail inflow by over 90%.
We've seen it. We've done it.
Don't take our word for it. Here's what others are saying:
Shoutout to one of my favorite apps @PaperKarma for helping me declutter my mailbox (yes, my physical mailbox). I definitely recommend that you check 'em out so that we can all reduce waste.. it's super easy! pic.twitter.com/r8f8wRxaSw

— Leah Riffell (@leah_riffell) May 24, 2019
No kidding. The PaperKarma app will turn your mail to zero.

— Charlie Cleveland (@Flayra) January 23, 2019
So, happy ending, I'm finally going through mail I've been ignoring for… 10 months? Thereabouts. (I mean, I opened & dealt with bills & holiday cards… I just don't have a place for them.) And I'm using @PaperKarma to unsubscribe from stuff & BOOM! It works perfectly. 8/end

— Kelly J. Cooper (@kjccreates) December 27, 2018
Here's some advice from one of our favorite experts on how to stop junk mail: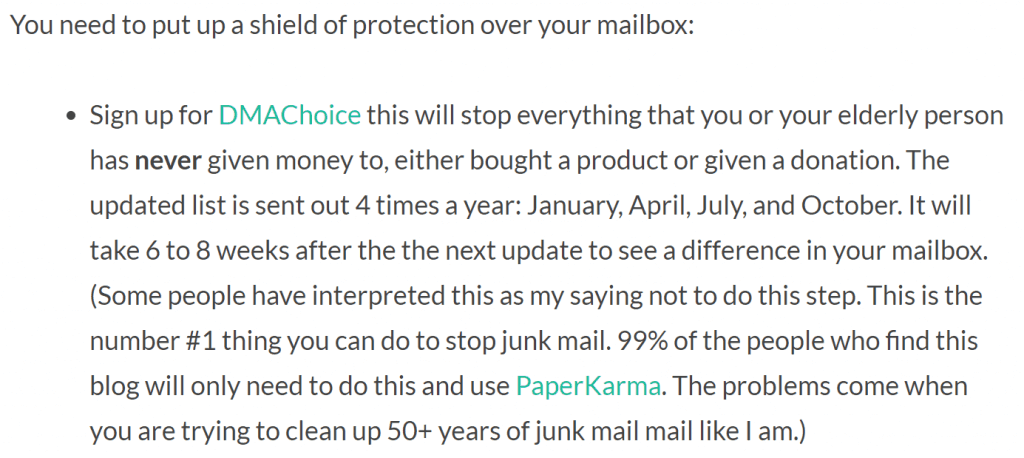 [Image Source: Drowning in Junk Mail]
Conclusion
TLDR; it's 2023 – and thanks to the interwebs and mobile apps you can actually stop most junk mail.
Here's how to stop junk mail in 3 easy steps, in under 5 minutes.
Here's how to stop junk mail in 3 easy steps, in under 5 minutes.
Stop Prescreened Credit & Insurance Offers with OptOutPrescreen (1 min)
Stop Larger Direct Mailers & Catalogs with DMAchoice (1 min)
Use PaperKarma and CatalogChoice to Stop All Other Direct & Local Mailers (3 mins per week)
We hope this guide expanded your view a bit and showed you that it is possible to get rid of most junk mail easily.
Will you use any of these solutions?
Do you have any advice for mailers that can't be gotten rid of?
If you've used any of the above solutions for getting rid of junk mail and still found a company or legitimate organization that refused to comply, please contact us and we'll look into it for you.
Stop Junk Mail FAQ
What is Junk Mail?
Junk Mail refers to unsolicited advertising and direct marketing received through postal mail, such as unwanted catalogs, coupons, credit offers, donation requests and magazines.
Why am I Getting Junk Mail?
Direct marketers commonly add you to mailing lists when you apply for credit or a mortgage, change addresses, sign up for contests and promotions, or donate to charity.
How to Stop Junk Mail?
Stop prescreened credit and insurance offers with OptOutPrescreen
Stop larger direct mailers & catalogs with DMAchoice
Use PaperKarma to stop junk mail from charities & local mailers.
Why Junk Mail Matters?
67+ billion marketing mail pieces are distributed by each year by the USPS, with 95% being tossed out. 44% end up in landfills unopened. The impact from junk mail is significant [infographic].