How to Stop Mail from
Capital One
Here's how to to opt-out of direct postal mailings:
How to Stop Capital One Junk Mail (For Good!)
If you're tired of sifting through endless Capital One junk mail, you're not alone. Many people struggle with the volume of credit card offers and unsolicited marketing materials that clog up their mailboxes. The good news is that there's a straightforward way to stop Capital One junk mail and regain control of your mailbox. In this blog post, we'll walk you through the process of opting out of Capital One's mailing list.
What type of junk mail does Capital One Send?
Capital One is a renowned financial institution offering a wide array of credit cards, loans, and banking services. While some mail from Capital One might contain essential account or transactional information, a significant portion constitutes junk mail. This includes pre-approved credit card offers, unsolicited product advertisements, and various other marketing materials that can clutter your mailbox.
How do I get off the Capital One mailing list?
To opt out of Capital One junk mail, follow any one of these options:
Opt out by phone: Call Capital One's toll-free number (1-888-817-2970) and follow the prompts to opt out of their marketing mailings.
Send a written request: Prepare a letter containing your name, address, and the statement "I want to opt out of Capital One's postal marketing mailings and credit offers. Do not sell or rent my personal information." Send the letter to Capital One, Attn: Privacy Officer, PO Box 30285, Salt Lake City, UT 84130-0287.
Use OptOutPrescreen.com, a service provided by the major credit bureaus and legally mandated by the Fair Credit Reporting Act, to remove your name from pre-approved credit offers. This will not affect your credit score.
How long will it take for the unsubscribe request to take effect?
It may take up to 6-8 weeks for your name to be removed from Capital One's mailing list after submitting your opt-out request. During this time, you might still receive some promotional materials, but the volume should decrease gradually.
What to do if I still receive junk mail from Capital One?
If you continue to receive junk mail from Capital One after following the steps above, consider these additional actions:
If the mail piece was sent using First Class postage, write "Rejected. Return to Sender" on the envelope and mail it back to Capital One. This will not work for Presorted Standard mail.
Utilize the DMA Choice service: Register with DMAchoice.org, a service provided by the Data & Marketing Association, to remove your name from various mailing lists, including Capital One's.
Use PaperKarma, a mobile app designed to stop paper junk mail with just a few taps.
How to get Capital One to stop sending me mail for good?
For a hassle-free solution how to stop junk mail like Capital One, consider using PaperKarma. Our mobile app allows you to quickly and easily unsubscribe from various mailing lists and individual mailers by simply snapping a photo of the unwanted mail. Once you've submitted your request, we'll handle the rest, ensuring that your mailbox remains free from clutter.
In conclusion, stopping Capital One junk mail is easy when you follow the steps outlined in this post. Say goodbye to unwanted mail for good, and enjoy a clutter-free mailbox with peace of mind!
Or let PaperKarma do the work to unsubscribe you from Capital One and thousands of direct mailers, catalogs, charities and more!
Simply download the app, snap pics of all your unwanted mail.
We'll do the work to unsubscribe you, saving you time and hassle!
Unlimited Opt-out Requests
Unlimited Recipient Names
Unlimited Recipient Addresses
Works on iPhone (iOS)
Works on Android
In-App & Email Support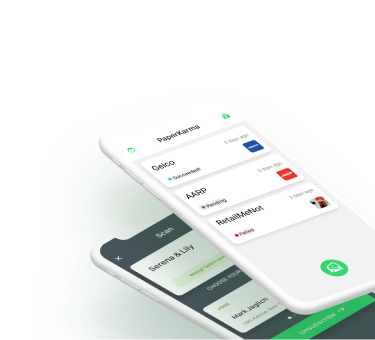 How to Stop Mail from
Capital One

This is a Verified Mailer
Please note it can take up to 12 weeks to see the mail completely stop.