How to Stop Mail from
GEICO
Here's how to to opt-out of direct postal mailings:
Geico offers a communications opt-out form on its website. Recipients can easily opt out of postal junk mail (marketing mail) and phone calls, as well as emails, quickly and for free, here.
As a member of the DMA, Geico also honors opt-out requests submitted through DMAchoice (currently for a $4.00 account initiation and verification fee).
Geico's pre-screened offers for insurance can be stopped for free for five years via OptOutPreScreen, but this will not prevent marketing mail for other Geico offers from being printed in your name.
PaperKarma also works to stop junk mail from Geico and 100,000+ other marketers, solicitors and charities as the largest mail preference service in the USA.
Download or text yourself our app for a free trial, below.
Or let PaperKarma do the work to unsubscribe you from GEICO and thousands of direct mailers, catalogs, charities and more!
Simply download the app, snap pics of all your unwanted mail.
We'll do the work to unsubscribe you, saving you time and hassle!
Unlimited Opt-out Requests
Unlimited Recipient Names
Unlimited Recipient Addresses
Works on iPhone (iOS)
Works on Android
In-App & Email Support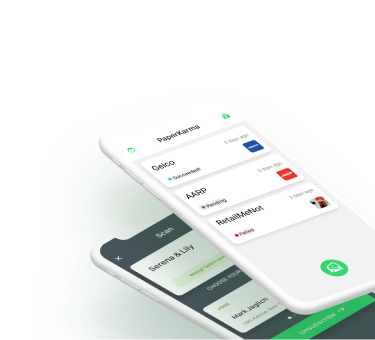 How to Stop Mail from
GEICO

This is a Verified Mailer
Please note it can take up to 12 weeks to see the mail completely stop.