How to Stop Mail from
Spectrum (Charter Communications)
Here's how to to opt-out of direct postal mailings:
Spectrum Mailing List Removal: Get Rid of Unwanted Promotions
Many of us gleefully cut the cord on Spectrum's leading cable TV service, sick of paying for ad-supported programming and for hundreds of channels you actually never watched. Only to find you're still in Spectrum's promotional web. And with their powerful position, especially post their Time Warner Cable acquisition, this major telecommunications company has launched aggressive upsells and tantalizing bundled service promotions via direct mail to reel you back in.
How to Opt-Out from Spectrum Junk Mail? (Permanant)
To opt out of Spectrum marketing mail, follow any one of these options:
Update your Spectrum Privacy Prefences Online: Head here to break free from Spectrum's clutches.
Select whether you hav an account with them or not. They'll need your name, street address, phone number (if you're ditching their calls), and email (if you're bidding goodbye to their emails).
Check the box for Do Not Mail. You can also go beast-mode and select boxes for Do Not Call, Do Not Email and Do Not Knock.
Opt out by phone: Call Spectrum at either 1-833-845-3726 or 1-855-75-SPECTRUM toll-free and let them know you're opting out.
How long will it take to stop getting mail from Spectrum?
It may take up to sixty (60) days for Spectrum to exhaust mail already printed in your name once you have opted for removal from Spectrums's mailing list.
What to do if I still receive junk mail from Spectrum?
If you continue to receive junk mail after following the steps above, consider these additional actions:
If the mail piece was sent using First Class postage, write "Rejected. Return to Sender" on the envelope and mail it back. This will not work for Presorted Standard mail.
Use PaperKarma, a mobile app designed to stop paper junk mail with just a few taps.
How to get Spectrum to stop sending me mail for good?
For a hassle-free solution how to stop junk mail like SiriusXM, consider using PaperKarma. Our mobile app allows you to quickly and easily unsubscribe from various mailing lists and individual mailers by simply snapping a photo of the unwanted mail. Once you've submitted your request, we'll handle the rest, ensuring that your mailbox remains free from clutter.
Or let PaperKarma do the work to unsubscribe you from Spectrum (Charter Communications) and thousands of direct mailers, catalogs, charities and more!
Simply download the app, snap pics of all your unwanted mail.
We'll do the work to unsubscribe you, saving you time and hassle!
Download now
Unlimited Opt-out Requests
Unlimited Recipient Names
Unlimited Recipient Addresses
Works on iPhone (iOS)
Works on Android
In-App & Email Support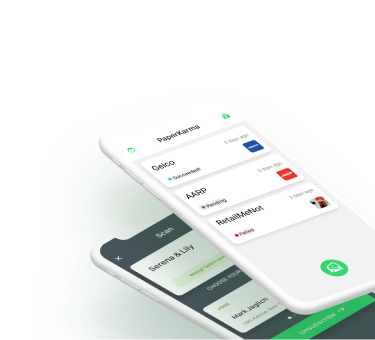 How to Stop Mail from
Spectrum (Charter Communications)

This is a Verified Mailer
Please note it can take up to 12 weeks to see the mail completely stop.