How to Stop Mail from
Xfinity (Comcast)
Here's how to to opt-out of direct postal mailings:
As the largest cable provider in the US, Xfinity is feeling the effects of cord cutting more than most. To combat this trend, they have launched aggressive marketing campaigns offering discounts and promotions to gain and retain customers.
If you are sick of getting bombarded by junk mail from Xfinity, don't worry, there are steps you can take to get off their mailing list!
How to Stop Receiving Junk Mail from Xfinity (Info for Non-account Holders)
If you'd like to stop receiving junk mail, emails, or calls from Xfinity, you can opt out through their parent company, Comcast. Simply complete their online form.
Xfinity also honors opt outs via phone at 1-800-XFINITY, but calling them can be tedious and time consuming.
We do not recommend using the Xfinity Assistant live chat bot, as it continuously seeks an account holder login to access actual live agents and any meaningul functionality.
How to Get Off Xfinity's Mailing List (Info for Account Holders)
If you're an Xfinity customer being spammed with account upgrade offers, Xfinity Mobile promotions and the like, here are instructions to remove yourself from their lists:
Simply complete this online form to opt out of marketing mail. You can also add yourself to their Do Not Call registry and adjust email and other communication preferences.
Submitting the above form will not prevent transactional and account-related mail, but for these items you can also opt to go paperless through your online account profile at My Account.
You can also remove your address from Xfinity's mailing list by speaking with an Xfinity /Comcast agent by phone at 1-800-XFINITY.
Xfinity Assistant – a live chat bot – can also be used to unsubscribe from direct mail, and is less tedious than calling in. Even after logging into your web account, be prepared to verify your account with information such as the last 4 digits of your credit card on file.
How Long Does It Take for Xfinity to Stop Mailing and Calling Me?
For postal mail, Xfinity claims you should allow up to 60 days for your information to be removed.
You will almost certainly receive more junk mail during this time. Having analyzed over 160,000 opt-out requests made to Xfinity via the PaperKarma: Stop Junk Mail App, we recommend setting your expectations to a 90 day window for the mail to fully stop once you submit your request.
For email and telephone marketing, you can expect your details to be taken off the list within 30 days.
What's the Easiest Way to Stop Xfinity Junk Mail for Good?
Don't waste your time dealing with customer service phone numbers, filling out forms, and other paperwork. PaperKarma's Stop Junk Mail App makes it quick and easy to stop junk mail from Xfinity.
The entire process only takes 2-3 seconds, and then you can go about your day. No more dealing with unwanted mail from Xfinity ever again! Get the App below.
Or let PaperKarma do the work to unsubscribe you from Xfinity (Comcast) and thousands of direct mailers, catalogs, charities and more!
Simply download the app, snap pics of all your unwanted mail.
We'll do the work to unsubscribe you, saving you time and hassle!
Unlimited Opt-out Requests
Unlimited Recipient Names
Unlimited Recipient Addresses
Works on iPhone (iOS)
Works on Android
In-App & Email Support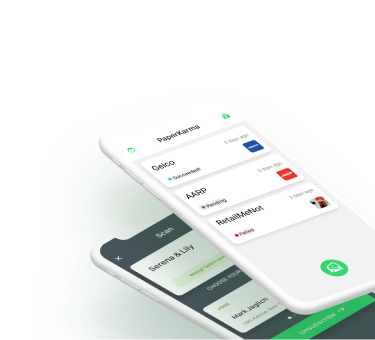 How to Stop Mail from
Xfinity (Comcast)

This is a Verified Mailer
Please note it can take up to 12 weeks to see the mail completely stop.